San Francisco (2) - Las Vegas (2) - Los Angeles (3)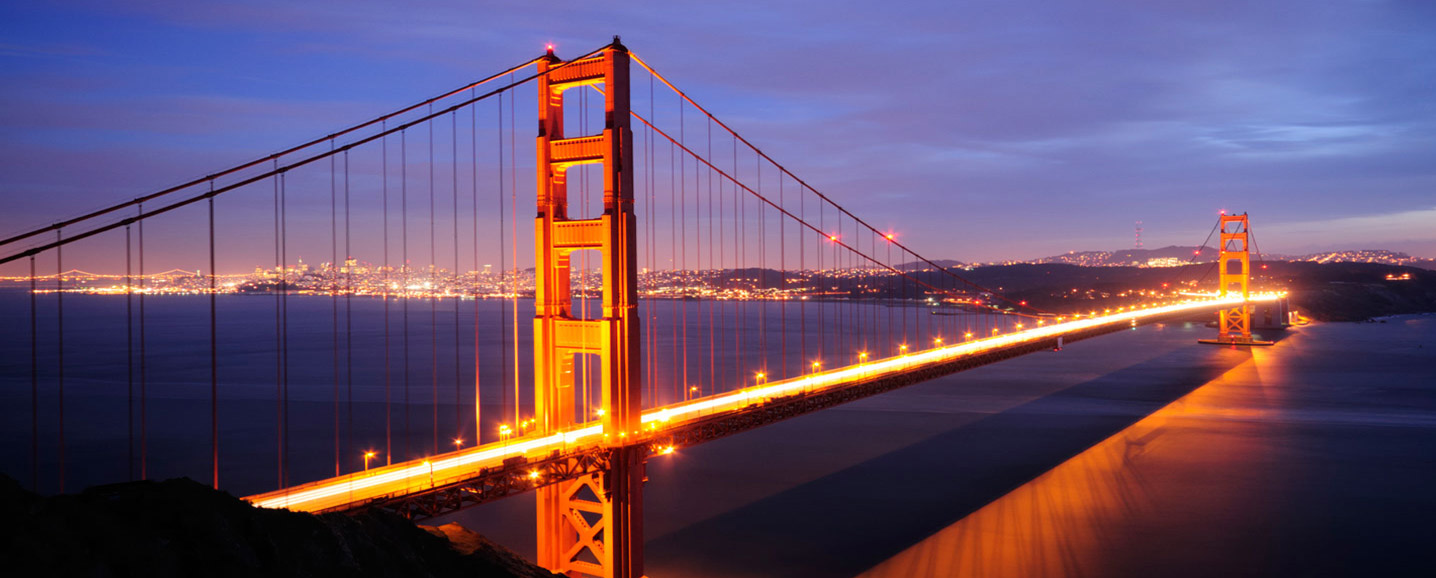 Description
Highlights

7 Nights 8 Days: San Francisco (2) – Las Vegas (2) - Los Angeles (3)
Visiting the America's Finest city, world's casinos center,
3* and 4* Hotels
Guiding Services
Resort Fees and City Taxes
Tour Timeline
Upon arrival at San Francisco International Airport, our local guide will meet and greet you at the arrivals hall and will take you to your hotel with your exclusive vehicle. After delivering your room keys, your guide will give some time for you to rest. Your guide will make restaurant suggestions for dinner. Overnight at the hotel.

Today we will have free time in this beautiful city for shopping or discovering or upon request, your guide may organize the San Francisco City Tour & Sausalito w/ Ferry Boat Return at an additional cost. On this tour; we will pay a visit to the landmarks of San Francisco such as Lombard Street, Civic Center, Golden Gate Bridge, Haight & Ashbury(Hippy Neighborhood), Golden Gate Park, Twin Peaks, Painted Ladies, Palace of Fine Arts . After the city tour , our vehicle will take us to Sausalito where you can enjoy a nice walk by the sea and have a cup of coffee . After the nice break, we will take a ferry to San Francisco. During the trip, you will be able take a picture of The Golden Gate Bridge and Alcatraz prison located on the Alcatraz Island named previously by Spanish as "Isla de Alcatraz "meaning the Island of the Pelicans. You can also take the best pictures of San Francisco Skyline from the ferry. Next attraction will be the famous "Cable Car". We will take the Cable Car through the street of San Francisco to our hotel. (If you wish, your guide will take you a quick tour in China Town) After the tour, you will have free time. Overnight at the hotel.

Day-3 : SAN FRANCISCO – LAS VEGAS

After the breakfast, we'll check-out from our hotel and we will go to San Francisco International Airport to check in to the domestic flight to Las Vegas with our exclusive vehicle. After 1,5 hrs of flight, we'll arrive in Las Vegas, the most important tourist attraction of the State of Nevada where you can see the biggest hotels and casinos of the world. Las Vegas grew from a tiny, desert-bound railroad service center at the outset of the 20th century to the country's fastest-growing metropolis at century's end. This transformation made possible by a combination of shrewd entrepreneurship, access to water, an extensive transportation network, and permissive state laws—has created the city now often known simply as "Vegas," a place of vast casinos, elaborate hotels, and spectacular entertainment venues that attracts masses of visitors from throughout the world. Upon arrival to Las Vegas, we will have a panoramic tour introducing the hotels in Las Vegas Strip before we go to our hotel. After settling in our rooms, we will have free time to enjoy the famous Las Vegas strip. We will be more than happy to organize one of the "Cirque de Soleil"shows for you at your own cost. Upon request, your guide may organize Red Canyon & Premium Outlet Tour at an additional cost. On this tour, we will visit Red Rock Canyon, for amazing landscapes of rock formations which formed over a 180-190 million years ago. This will be the perfect opportunity for us to take breathtaking photos of not only the landscape but also of the many rock climbers that scales the walls of Red Rock Canyon. After the tour we will have additional time for shopping at The Las Vegas Premium Outlet. After we finish the tour, we'll be transferred to hotel. In the evening, world-famous shows of Vegas and a great number of gambling tables and slots are waiting for us. Overnight at hotel.

Today we'll have a leisure time for our own activities or upon request, your guide may organize The Grand Canyon Tour at an additional cost. On this tour, after 2 hours of road trip on Mojave Desert, we will be welcomed by America's one of the most iconic natural wonder, The Grand Canyon. Upon arrival, we will check in for our helicopter tour. After the check in, we will watch a security video of the flight. Then we will board our helicopters. While we are flying over Colorado River, we'll be mesmerized by magnificence of The Grand Canyon. Upon landing on the canyon floor, you'll enjoy a short and scenic walk to the bank of Colorado River where a pontoon boat awaits. This peaceful cruise offers sights of the mile-high canyon walls rising on either side of you. Afterwards, you'll return to the rim's surface by helicopter and continue touring the viewpoints on foot. This top-to-bottom Grand Canyon West tour truly is a sightseeing opportunity unlike any other!. After we get back from the bottom of the Canyon, we will continue our day with the Legacy tour which includes bus rides to Eagle Point and Guano Point. We'll visit Eagle Point and have a chance to take photographs of Grand Canyon from 800 meters cliff and also getting closer with Hualapai Nation's life and see their tents. The Hualapai Nation has partnered with several other Native American tribes to bring visitors of the Grand Canyon West Rim inside the lives of their tribes. Afterward, we'll continue to Guano Point where we'll have local foods prepared by Hualapai people and see another amazing scene of the nature. After lunch we will get back to our vehicle and head back to Las Vegas. Overnight at the hotel.

Day-5 : LAS VEGAS - LOS ANGELES

After check-out from hotel, we'll depart for Los Angeles. It is a 4 hrs journey with a lunch break. The guests will enjoy the scenery of Mojave desert. After lunch, we will arrive in Los Angeles. Upon request, your guide may organize Los Angeles City Tour at an additional cost. On this tour, first stop will be Downtown Los Angeles and visit of Olvera Street with historical centers and sky towers. After Olvera street our second stop will be Hollywood Boulevard, home of the Dolby Theater, where every year movie history is made at the prestigious Oscar Awards. Just a few steps away from the Dolby, we will also visit the Chinese Theater, known for it's gala movie premieres as well as footprints and handprints of Hollywood's most loved actors on the Walk of Fame. From Hollywood Boulevard, we'll be driven through the famous Sunset Strip and arrive in luxurious Beverly Hills. We will have a chance to pose for photos by the Beverly Hills sign as well as view the homes of the rich and famous. Guests will then be taken on a brief walk on Rodeo Drive, known world-wide for it's high end designer shops such as Louis Vuitton and Channel, and the backdrop of such films as "Pretty Woman" and "Beverly Hills Cop". Finishing off the tour of Los Angeles, guests will visit the legendary Beverly Wilshire Hotel, which has hosted some of the worlds most loved stars such as John Lennon and Elvis Presley. After the City Tour your guide will take you to see Famous Farmer's Market and The Grove Shopping Center where you can enjoy fresh fruits and bakeries of The Farmers's Market as well as the nice restaurants of The Grove. After the tour we will head to our hotel. After check in, you will have free time. Overnight at hotel.

Today we'll have a leisure time for our own activities and also upon request, your guide may organize Universal Studios Tour at an additional cost. When you visit Universal Studios, you'll understand why it's the best and most gorgeous studio in film industry. It is one of the oldest and most famous Hollywood film studios still in use. Its official marketing headline is "The Entertainment Capital of LA". It was initially created to offer tours of the real Universal Studios sets and is the first of many full-fledged Universal Studios Theme Parks located across the world. There are simulator rides that you will enjoy such as Harry Potter, Transformers, Simpsons, Minions etc. The live shows such as Water world will take your feet off the ground. The famous Studio Tour ,which includes all of the sour stages and movie sets of Universal studios, will amaze you whole 45 minutes . After amazing Universal Studios Tour, your guide may organize Santa Monica Tour at an additional cost, where we will have time to walk the famous Santa Monica Promenade which is known for it's many restaurants and shops as well and street musicians, dancers and acrobat artists. Overnight at hotel.

Today we'll have a leisure time for our own activities and also upon request, your guide may organize San Diego City Tour at an additional cost. The "Birth Place of California" and also named "America's Finest City", San Diego is located at US-Mexico border. Upon arrival in San Diego, we will first visit La Jolla, famous for it's underwater sea caves and kelps beds which are full of sea life, including seals which live and breed on the shores. After La Jolla, we'll visit of Old Town where California's name was born and here you'll feel yourself in a Mexican city. Next stop will be Sea Port Village, where we will be able to explore many specialty and souvenir shops, as well as walk to the historic USS Midway Aircraft Carrier which hosted the movie Top Gun starring Tom Cruise (We will not visit USS Midway Aircraft but will have a chance to take photographs). Our final stop for the day, we will drive through the Gaslamp District, heart of San Diego's social scene, it's shops, art galleries, restaurants, bars and night clubs serve native San Diegans as well as it's many world-wide tourists. Next stop will be the largest public park in the United States. Next stop will be Coronado Island, which boasts some of San Diego's wealthiest residents and the legendary Hotel del Coronado, their biggest wooden building in United States and the location of the movie "Some Like it Hot" starring Tony Curtis and Marilynn Monroe. After this tour, we'll return back to Los Angeles. Overnight at hotel.

Day-8 : LOS ANGELES – DESTINATION CITY

After check-out from hotel, we'll have time until our flight. (Depending on your onward flight departure time back to your home destination) Your guide also can organize an optional tour of California Coastal Cities at an additional cost. On this tour we will be taken to Long Beach, port of the famous war and cruise ship, The Queen Mary (now a restaurant and hotel) and the runway for the Long Beach Grand Prix. Driving down the Pacific Coast Highway, guests will experience the breathtaking views of Seal Beach, Huntington Beach, Newport Beach and the Balboa Peninsula. The next stop of the tour will be upscale Corona Del Mar, where we will experience stunning views of the Pacific Ocean and high end homes along the shore. Continuing the tour, guests will then be driven to Laguna Beach where they will have the opportunity to walk along the shore and visit expensive art galleries featuring local and international artists. After California Beach Cities tour, we'll be transferred to the airport. Upon arrival our local guides will help you to check-in. Afterwards our local guide will say good bye to the group and you will proceed through security to board your flight back home. Hope to see you on another trip.